Here you have a detailed cronological list of the main Boat Shows that David and/or I will be at this year.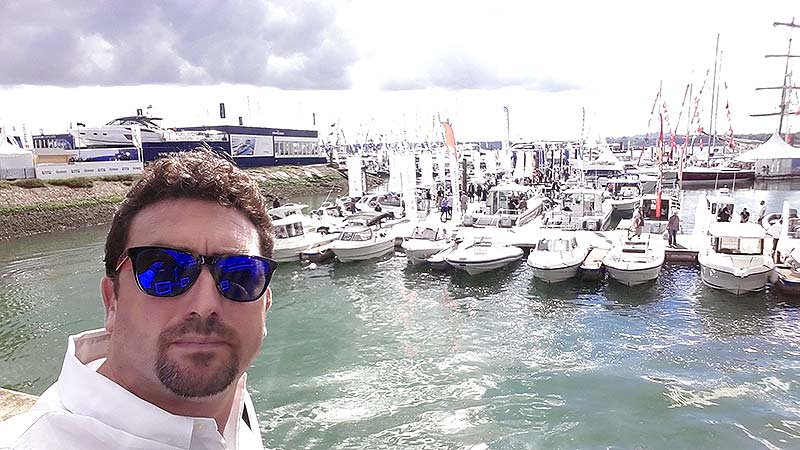 Photo: Juan Olives at the Southampton Boat Show (England), at the end of September.
2020 Boat Shows
London
The London Boat Show has sadly been cancelled for this year so, we recommend visiting Boot Düsseldorf in its place 😉
If you have any questions you can always contact us.
Düsseldorf
Along with Miami, Boot Düsseldorf is probably one of the most important Boat Shows in the World, that is why the leading brands present their latest innovations and floats there.
The show will take place from the 18th until the 26th of January. This year we will be there during the whole event.
If you are interested in going let us know so we can try and arrange to go together.
For more information here is the Düsseldorf's boat show website: http://www.boat-duesseldorf.com/
Palma de Mallorca
The XXXVI Salón Náutico de Palma or "Boatshow Palma" will take place from the 27th of April to the 1st of May.
With each passing year, the Palma Boat Show is growing more and more. Today, it has nothing to envy of the Southampton Boat Show held in September.
We will be there for the duration of the boat show.
Photo: Invictus 370 during it's presentation in Palma de Mallorca last year.
If you already know when you are going please let us know.
For detailed information about Boatshow Palma click here.
Cannes
Cannes Yachting Festival takes place from the 10th to the 15th of September.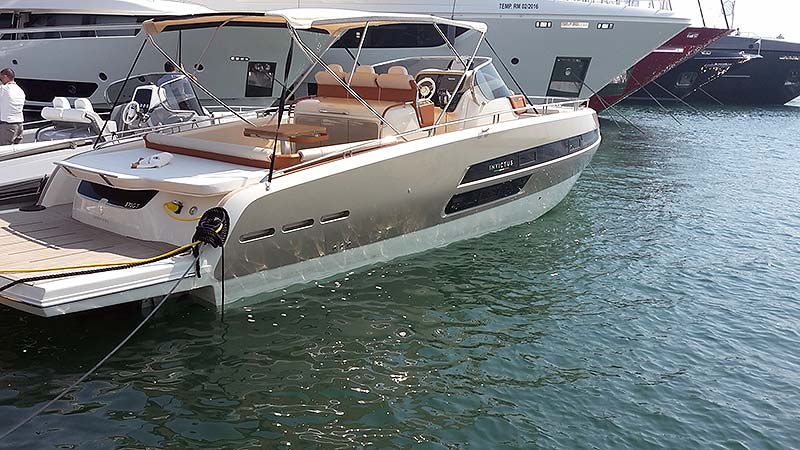 Photo: Invictus 370 GT in the waters of Cannes harbour.
According to its organizers, Cannes Boat Show is the largest in Europe and that is why Menorca Yachts is going to be there.
We will be there from the 10th to the 15th of September but, if you want to get a head start you will find all of the information that you need on their website http://www.cannesyachtingfestival.com/en/Home/
If you make up you mind before we do send us a message.
Southampton
Southampton Boat Show is such a classic.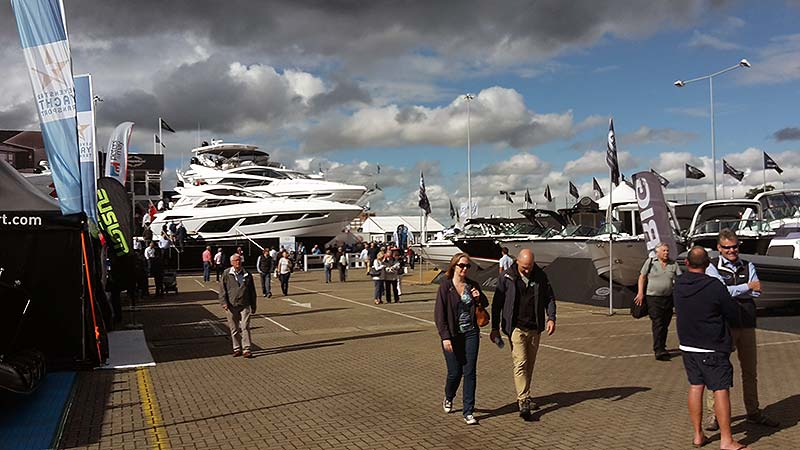 Photo: As you can see we had great weather in Southampton.
To be held from the 13th to the 22nd of September so, we should be there after spending a few days at Cannes boat show.
We will be there from the 19th until the 21st of September but, if you are thinking of going during the first week our partner Garry will take care of you.
In any case, here is the link to their website so you can get a heads up.
If you would like us to meet you there let us know here.
Barcelona
Without a doubt this is "our boat show", David goes almost every year but I have never missed an edition or day, since 2004.
This year it will take place from the 9th to the 13th of October.
I will be there every day and David will join me for the weekend. We both will look forward to seeing you there.
So we do not miss each other let us know when you will be there by filling out our contact form.
To find out all about the Salón Náutico Internacional de Barcelona take a look at their official website.
Valencia
The Valencia Boat Show will be held from the 30th of October until the 3rd of November.
Meanwhile, all we can tell you is that the websites URL is https://valenciaboat.com/?lang=en.
If you would like us to meet up there send us a message.
Now it is your turn
If you would like us to meet at any of the mentioned Boat Shows contact us here and we shall do our best to sort out some time for you in our agenda.
For whatever reason, we have missed out a Boat Show that might be of your interest please let us know so we can plan ahead and possibly work it into our Boat Show planning for next year.
Remember, no matter whether you can make it or not you can still stay up to date with what is going on by following us on Twitter.