Our App allows you to connect to the cameras that we have installed in our main warehouse so you can see your boat whenever and from wherever you may be by using your phone. Do not worry it is 100% safe as it is user and password protected.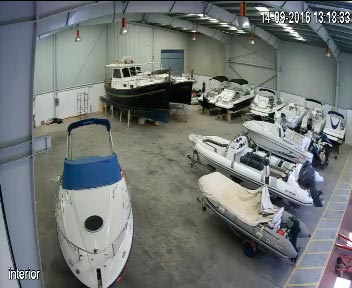 Photo: An example of what you will be able to see when you access the camera via the APP.
You can download the APP by using one of the following links which area available for iPhone and Android devices:
Although the name of the device will always be Menorca Yachts, the access details (user and password), are unique for each user. These will be sent to you using a separate channel.
By doing this, we guarantee your privacy as well as maintaining a high level of security which is always very important for us.
If you have any questions regarding the APP please contact us.
Important note:
Apple and the Apple logo are registered brands that belong to Apple Inc. which are registered in the USA as well as other countries. App Store is the brand of a service also offered by Apple Inc. Google Play and its logo are also registered brands that belong to Google Inc.